Conditions b>
It is prohibited to resell , process and use the contact information for direct mailing.
2 . To find contact details for a specific taxi , please contact Taxi Proxi using the contact form on the WebSite .
3 . Subject to the establishment of a hyperlink, you must not without the written consent of the site Taxi Proxi no direct link or make any server connection Taxi Proxi internet available in phones mobile and ? other sites, researchers or any other computer network.
4 . Contact data can be displayed on a computer screen . Contact data should not be saved on the hard disk , but only the temporary files that allow a proper use of a browser online.
5 . In the case of failure to comply with the principles mentioned above, reserves Taxi Proxi the right to withdraw a license for the use of its application or prohibit research data contact through the application using relevant technical tools. The evaluation of the violation of the principles mentioned above shall be made by Taxi Proxi .
6 . Taxi Proxi does not guarantee the accuracy and completeness of the contact searched through the online application Taxi Proxi in mobile phones . Despite all the care and attention Taxi Proxi on the structure of the application Taxi Proxi in mobile phones and completeness of the information contained in it, the company not guarantee that the information is complete, accurate and regularly updated . Proxi taxi should not be held responsible for direct or indirect damages resulting from the use of the application Taxi Proxi in mobile phones or lack of access to this application in mobile phones via the Internet connection.
7 . Taxi Proxi reserves the right to modify the content of these without notice.
8 . These Terms and Conditions shall be governed by the provisions of the French law. Any dispute arising out of this will be decided by a competent court. Filmography
MISE EN GARDE : l'utilisation du téléphone au volant est déconseillée et si vous êtes amené à répondre à un appel soyez équipés d'un kit piéton ou arrêtez-vous pour traiter l'appel.
Conduire avec un téléphone tenu en main : un comportement puni par la loi
Jusqu'en avril 2003, le code de la route français ne mentionnait pas précisément le téléphone portable mais tous les comportements susceptibles de détourner l'attention du conducteur. Le décret sur les nouvelles mesures de sécurité routière paru le 3 janvier 2012 est encore plus précis.

L'article R.412-6 du Code de la route prévoit que :
" Tout conducteur doit se tenir constamment en état et en position d'exécuter commodément et sans délai toutes les manœuvres qui lui incombent. Ses possibilités de mouvement et son champ de vision ne doivent pas être réduits par le nombre ou la position des passagers, par les objets transportés ou par l'apposition d'objets non transparents sur les vitres. Le fait, pour tout conducteur, de contrevenir aux dispositions ci-dessus est puni de l'amende prévue pour les contraventions de la deuxième classe. "

Le décret du 3 janvier 2012 concernant l'usage du téléphone mobile vient compléter cet article :
" L'usage d'un téléphone tenu en main par le conducteur d'un véhicule en circulation est interdit. "
" Le fait, pour tout conducteur, de contrevenir aux dispositions du présent article est puni de l'amende prévue pour les contraventions de la quatrième classe. "
" Cette contravention donne lieu de plein droit à la réduction de trois points du permis de conduire. "

Ainsi, en conduisant avec un téléphone portable à la main, vous êtes passible :
- d'une amende forfaitaire de 135 euros; (90 euros; si elle est minorée, c'est à dire payée dans les 3 jours). En cas de poursuites pénales, l'amende peut atteindre un montant maximal de 750 euros ;
- d'un retrait de 3 points de votre permis de conduire.

Cependant, la loi ne précise pas qu'il est interdit de téléphoner avec un kit mains-libres, celui-ci permettant de garder les deux mains sur le volant et son regard sur la route.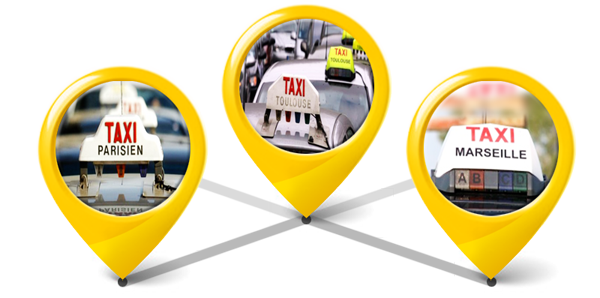 Spéciale réservation


Numéro non surtaxé


Veuillez réserver votre taxi 1h a l'avance


Réservation disponible sur application, site web et site web mobile


Find the nearest taxis to you using the application
Taxi Proxi
!



Follow the news on Facebook